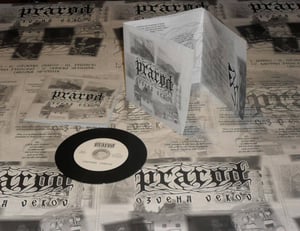 $

10.00
Prarod Ozvena Vekov (Echo of Ages)
Pagan / Folk Black Metal
In the vein of
Temnozor,
Nokturnal Mortum,
Quebec's Hiverna and Protokult.
From the Heart of Slovakia
commes this fist EP influenced
by slavonic mythology
and history.
A must for fans of Pagan Black Metal!
You get :
1 Vinyl CD-R
1 8,5 x 11 Poster (printed both side)
1 Folded Booklet
In a Clear Sleeve!
10$ Shipping Included Worldwide! Frais de poste inclus!